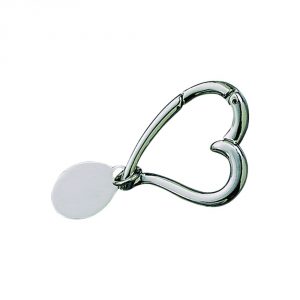 Keeping that which you treasure most you safe and secure is of incredible importance. It may mean placing valuable items in a safe, strapping your child into a car seat, flipping the deadbolt on your front door, or entrusting your secrets to the person you cherish most. Whatever and however you secure your valuables, an engraved keychain is a unique way to honor them.
Keychains make fantastic, small gifts to commemorate just about any occasion. Engrave your wedding date on a unique outlined heart-shaped keychain. Give them to your wedding guests as a one-of-a-kind gift to remind them of your special day. Personalize one and give it to your spouse on the big day – it'll make for a handy reminder of your anniversary! Or keep one for yourself, a daily reminder of the most magical day of your life.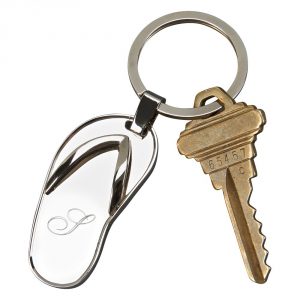 Personalize flip-flop shaped keychains for a special girls weekend. Whenever your friends grab their keys, they'll think of the wonderful trouble you into together and the great memories you made. With free engraving, it's easy to give these mementos an extra glow.
Customize keychains with a tree design as holiday stocking stuffers. It makes for a unique way to commemorate a special holiday season – first Christmas after getting married; baby's first Christmas; first holiday in a new house; first winter after you've retired someplace warm! Having a small token like this, in your hand every day, will remind you of special memories any time of year.
Or engrave a simple oval-shaped keychain with your son or daughter's initials, and give it to them to keep track of their keys as they head off to their first year at college. A small reminder of where they have come from and how much they are loved no matter whether they're close to home or far away. And the customization will make it easy to find keys that get left behind in the cafeteria or lecture hall by accident!
Gifts don't have to be grand gestures. Often, it's small reminders of kindness and affection that mean the most to us!