"Only by giving are you able to receive more than you already have." – John Rohn.
Religion and beliefs are extremely personal. They make us better people. They give us a safe place to land when the going gets tough. Religion gives us a road map and compass to guide us through this life no matter what beliefs you hold. Religion and beliefs also help us welcome new members of the church family through special ceremonies like Baptisms or Naming Ceremonies. Gifts for these once-in-a-lifetime moments should be just as unique and special as the person you are giving it to. Here are just a few of our religious gifts for your loved ones special moment as he/she enters your church family.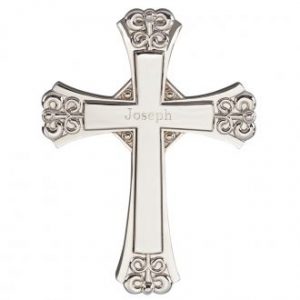 This beautiful Cross has an Old World design around the edging combined with the contemporary smoothness of the inner cross. The area on the inner cross allows for engraving of a name or date of ceremony. The Cross is 6″ tall by 4.5″ wide and nickel plated to make it non-tarnishing. It can be hung on a wall or arranged with other items from the Christening ceremony. This piece will be a keepsake that will be cherished as the receiver continues along their religious journey.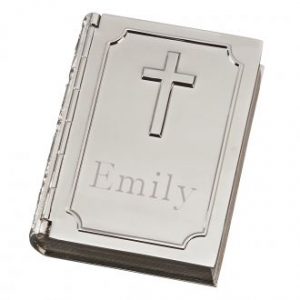 This faux "book design" box with a cross can hold small treasures and trinkets such as rosary beads or religious medals. The box is 3.5″ tall by 2.75″ wide and 1″ deep with a .75″ by 1.375″. The lid, or book "cover," is hinged and opens to reveal a lined compartment inside. The outer cover of the book can be personalized with a name, monogram or date. This special piece can truly mark this special occasion and stay with the child for years to come.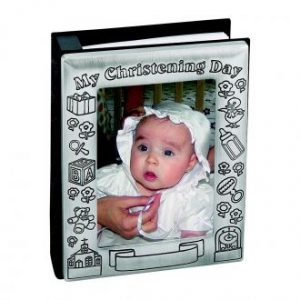 This photo album keepsake can hold up to 72 –  4×6 pictures of the Christening day. Capture the family, child, Godparents and friends that chose to share this spiritual moments with you in this pewter finished, "My Christening Day" photo album. The album pages are acid free to help protect your images. In addition there is a smooth ribbon on the front to include the child's name. Preserve the memories of this special day in an equally special album.