Valentine's Day, also called Saint Valentine's Day or the Feast of Saint Valentine originated as a celebration day in Christian liturgy honoring a saint named Valentinus. According to legend, Emperor Claudius II imprisoned and later persecuted two men who were secretly performing weddings for soldiers who were forbidden to marry during the rule of the Roman Empire. They were both named Valentinus and signed their farewell letters "Your Valentine."

Valentine's Day has become synonymous with romantic love and has been celebrated in the United States since the 18th century. By the mid 1800s Esther A. Howland began selling the first mass-produced Valentine's Day cards. Today, it is one of the most popular holidays on the calendar, with an estimated 1 billion cards, gifts and flowers sent each year. No matter whether you have been with your Valentine for decades or it is a "new" love, the pressure is on to find the right gift for your beloved.
Send your love something special, unique and true to your heart by choosing one of our personalized gifts this year. Your love will cherish it for years to come.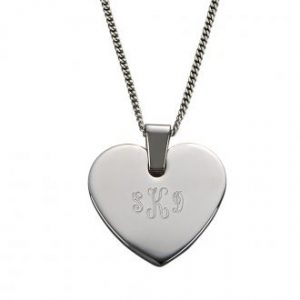 The heart is the identifying symbol of true love on Valentine's Day. Choose this eighteen inch pendant for your beloved this year and show them how much you adore them. The stainless steel heart can be personalized with a monogram, initials or message of love. This gift can be something they keep forever and remember the special Valentine from whence it came.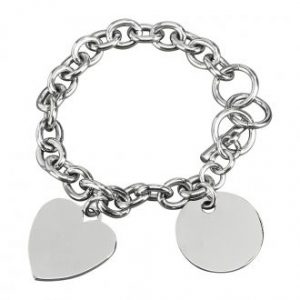 For the girl who loves baubles and bangles, this piece will soon become her favorite and most sentimental jewelry item. This stylish stainless steel charm bracelet includes two charms; one charm in the shape of a heart and the other is a round shape disk.  Personalize each item or add charms each major holiday or milestone to mark the moments in your story.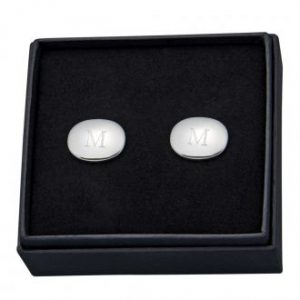 For the man in your life, finish off his look with these palladium finished cuff links. The pieces are able to be personalized with a monogram or initials to fish off the perfect ensemble for work or an evening out.  He will think of you each time he wears these classic and stylish oval cufflinks.