So you planned the perfect baby shower for your bestie. You picked an adorable theme, made Pinterest-worthy decor, put the final bows on the favors, and have the baby games all ready to go. You even went so far as to create "Mommy Advice Cards" and a "Daddy Survival Kit" for the parents-to-be. You have done it all. . . now you just need to find an out-of-this-world gift for the little bundle of joy. Creative Gifts has a wonderful assortment of gifts for the baby that are personal and a one-of-a-kind keepsake that they will cherish for years to come. Let's take a look at a few of the options to shower the new baby during this spring's baby shower season.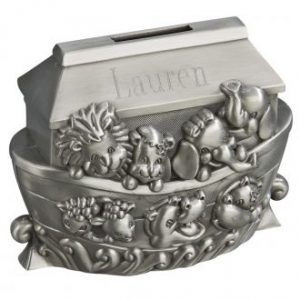 Give a gift that is both practical and charming. A bank will help baby towards saving for college, a toy or just some mad cash that they will appreciate as they grow older is a fun gift that also can help start the child off on the right foot. We have many styles to choose from including: a traditional "Piggy" bank, race car, a train, puppy, football, ATV, teddy bear, alphabet block, and this beautifully detailed Noah's Arc bank. Each style comes with an area that can be personalized with the baby's name or birth date. Don't forget to put a few bills in there before you wrap this up for baby!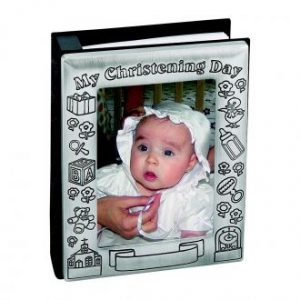 Capturing those first precious moments when a beautiful newborn is in mom and dad's arms is an instant in time that will never be forgotten. Place that precious memory in one of our personalized frames that will be viewed over and over again throughout the years. Choose from different shapes and styles including a pumpkin coach in a Cinderella style or a baby book frame. Each can be personalized with the child's name and date of birth.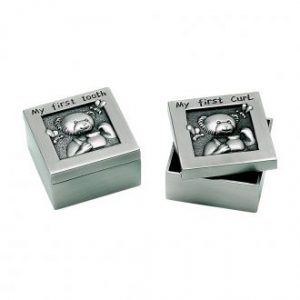 Plan ahead for the child's major milestones like losing a first tooth or getting that first haircut. Give mom and dad one of these unique "First Tooth" and "First Curl" boxes that they can keep for a lifetime. Choose a bunny or teddy bear design that can hold these items and memories. Each box can be personalized and is lined with blue velvet.
All of your careful baby shower planning will wow the new parents and so will one of our special baby gifts that they will have for a lifetime.