"Anyone can be a father, but it takes someone special to be a dad, and that's why I call you dad, because you are so special to me. You taught me the game and you taught me how to play it right." Wade Boggs
For Wade Boggs, his dad taught him the love of baseball. Maybe your dad taught you to drive, skate, run, draw, paint or, more importantly, to look at the world in a new way. It really does take someone special to be a dad. Remembering  your dad with a personalized gift on Father's Day this year is a great way to show him that all of his sacrifices and sleepless nights were appreciated. Here are a few ideas to get you started on making June 18, 2017 a memorable one for the dad in your life.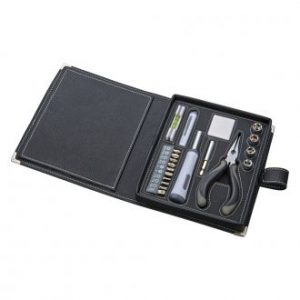 If your dad, or the man in your life who is like a dad, likes to tinker and enjoys fixing things around your house or other people's homes, here is the perfect gift. This tool case is not only extremely useful but stylish as well. Our 20 piece tool kit includes a knife, tape measure, level, needle nose pliers, a multi function handle and twin adaptor that lets you use any of the 4 ratchets or 9 different screw driver tips. All of these useful pieces are stored safely in a black leatherette case with silver accents. Include a monogram or personalization on the front cover to make it even more special!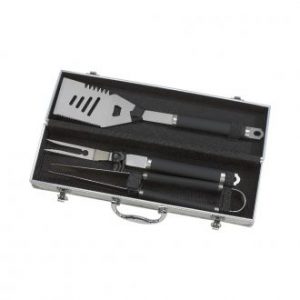 If the man in your life loves entertaining outdoors and is the "King of the Grill" this 3 piece stainless steel BBQ set with aluminum case is a perfect choice! The heavy duty case for storage has a self-adhering plate for engraving to make it even more personal. The three oversized tools include: tongs; fork; and slotted spatula that features a built in bottle opener. This summer's grilling season will be a wonderful time as he enjoys not only the company of friends and family but his new grill set from you.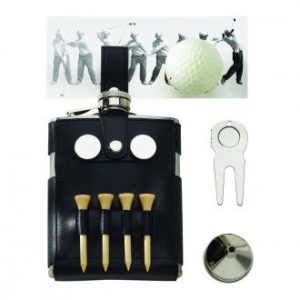 For the dad who loves to relax on the links, this combination flask and golfer's tools will be a fun way to tell dad you love him! This stainless steel, leather wrapped Golfer's Flask can hold 6oz of your dad's favorite beverage as well as four wooden tee's, two silver golf ball markers and a divot tool. (Not that your dad ever makes a divot!) The convenient strap makes it easily attachable to a belt or his golf bag.