Ten Little Fingers, Ten Little Toes,
Fill us with Love, Till it Overflows!
Celebrating the arrival of the newest member of your family can be such an exciting time whether you are a first-time parent, grandparent, sibling, or extended family. Whether you are adopting or waiting the 40 weeks till s/he makes their entrance, time is busily being spent planning and preparing for the "big day". There are so many things to think about: the crib, clothing, bottles, baby equipment, the list goes on and on. While you are stockpiling the all-important baby gear that is needed, don't forget to slow down and enjoy these moments because they are ever so fleeting. One way to do this is to throw a much needed baby shower to make sure the new parents are fully prepared. While strollers and diapers are necessary items, don't forget the more personal keepsakes that will be cherished for years to come.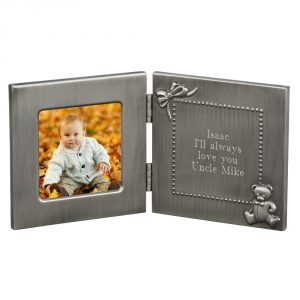 Hinged Baby Frame and Engraving – This beautiful pewter-finish frame, accented with a teddy bear and bow, would make for a perfect "first picture" of baby and family. The 3″ x 3″ engraving area is defined by a beaded border and is the perfect size to engrave whatever your desired message is, whether you want to include the baby's name and birthday or birth info like height, weight, and time of birth. There is even room for a quote or an "I love you!"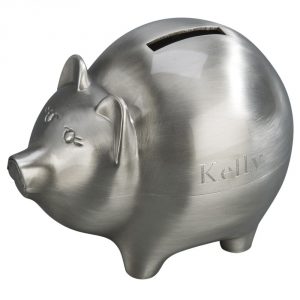 Small or Large Piggy Banks – Creative Gifts offers a wide assortment of piggy banks such as pigs, bears, trucks, trains, and cats. Each of these "first banks" make saving fun. They come in a variety of finishes including brushed pewter or polished nickel plating. Choose the finish and style you like best. Then make it personal for the new arrival by engraving the baby's name or birthday.
First Tooth and First Curl Horse and Pumpkin Coaches – It may seem far away that parents will be cutting those first locks of hair or storing away the first lost tooth, but time passes quickly. This adorable horse and pumpkin coach can store all of those first moments safely away. Personalize the item with the baby's name or birthday.